Share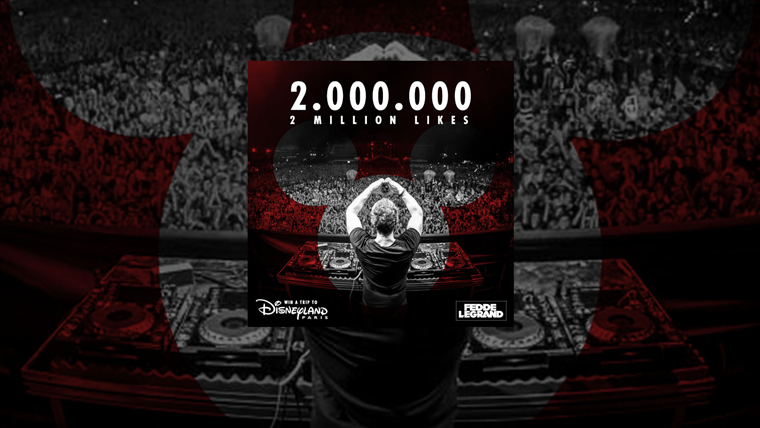 A word of the winner of the trip to Fedde's show @ ICE PARTY in Disneyland Paris
December 22nd 2014
2 million <3 ...see you in Disney !!! Joining together no less than 2 million people on his Facebook was more than enough occasion for Fedde not to let pass by without a proper way of saying THANK YOU !!!!!! And when Fedde does, he says it in style. Disney style to be precise. On the 13th of December Fedde played the highly exclusive ICE PARTY hosted in Disneyland Paris and from all participants in the "2 Million" competition, Alexander was the lucky winner. He had the chance to fly to Paris and visit Fedde's performance leaving us with this recap of a truly unique weekend:
---
Sitting here I still can't believe the magical weekend I've had.. I have to express a HUGEE thanks to Fedde Le Grand, his excellent management that took care of absolutely everything, our private drivers and Disneyland® Paris in general. I'm gonna try to put the 2 days in words below..
Saturday the 13th of December we had our flight at 13:45 to Paris, we got there at a couple of minutes past 15h. Our private driver was already waiting for us with a Ipad with ''Bouten'' on it. The amount of leg-space in the car was crazy, like 3 times more than in a normal car. We had a little chat in French about the weather (it was raining a bit at that point) and the driver assured us that tomorrow the weather would be better.
We were staying at the Disney New York hotel. That looks exactly like New York cus it has skyscrapers and the staff is dressed like you imagine from movies. At the reception we got our room-keys and information. It included a sealed envelop with ''Alexander Bouten, Fedde le Grand VIP'' on it and a pass to be able to get in Disneyland the next day from 8 till 10 am (normally the park opens at 10 am). The hotelroom was ''standard'' for the hotel but because the hotel has 4 stars it was a massive room with two 2-persons beds, a bathtub, shower etc. We opened the envelop in the room and it contained 2 VIP-bracelets and a flyer which indicated where the attractions were, the party and not to forget, the VIP zone! It was so cool to read we could go in rollercoasters at night not to mention that the bracelet was also a VIP fast-pass meaning that we could enter any rollercoaster by using the exit or the employees entrance to skip the queues, Amazing!! The VIP zone was next level also, a buffet with some food and drinks including: bacardi mojitos, 1664 beers, good quality champagne and grey goose, additionally there was a promo team of Haribo and Lays so enough to snack also! This already sounds amazing right? Well I haven't even said something about the concert yet! We've only seen a bit of the sets before 1 am but we were ready at 1 am cus Fedde played from 1 till 3 am his liveset. The party was called "ICE" so the stage was made from real ice and instead of confetti a kind of simulated snow came out of the cannons. Pretty cool! The visuals were nice also, as you might know Fedde is currently preparing for a theater tour in Carre next year and some visuals looked like they would also fit perfectly in a theater show. Fedde played some Daft Punk, Calvin Harris, and obviously his relatively new tracks: Cinematic, Twisted and his latest release: Home. The vibe was great throughout his set!
Next day (without a lot of sleep cus the party ended at 3 am) we had breakfast in the hotel, pretty luxury, got back in Disneyland and enjoyed it! In the morning there was a little uncertainty about at what time the private driver would pick us up but that was arranged really quickly by Fedde's Management & because I called the driver who had brought us to the hotel and he knew who was supposed to take us back to the airport. After 2 hours by train after landing I was soo tired but it was all worth it!